As part of the Unified Community Platform project, your wiki will be migrated to the new platform in the next few weeks. Read more here.
User talk:James Edington
dude i edited for you if you need more ask!!!

Thanks! P.S., you forget to sign your post! :P (Sign it with four tildes "~") JamesTheAwesomeDude 17:03, 26 February 2012 (UTC)
Could I have a picture of an enderman holding a block of Mycelium? Also, something saying that I love Planet Minecraft would be nice.

i cant make a picture endearmen don't hold that. i will give you the link to how to make stuff but i have to find it! i cant make pictures like th at but i will try to to make yojr own kwn bow to get a planet minecrarafg one! p.s.s please freind me on planet minecraft minecraft my name scarecrow1000. ps.s.s whats your name o. planet minecraft?elp. i will make the ender guy for you because that's hard! p.s you will hakve go
That's okay; I found the page that explains how to make userboxes. if you know someone who can make me a Mycelium-holding Enderman, that would be nice if you told them about me. I am JamesTheAwesomeDude on planet minecraft as well. (You still need to sign your posts with ~~~~) JamesTheAwesomeDude 19:04, 2 March 2012 (UTC)
I know i typed toy frome userbox name wrong but if you do what you did I can have your editing removed –Preceding unsigned comment was added by 007a83 (Talk|Contribs) . Please sign your posts with ~~~~
i will give it
[
edit
]
i have the enderman it just has to wait 1 week im grounded so i cant use the computer so i dont have. wait im using the computer Scarecrow1000 01:28, 2 May 2012 (UTC)

Im scarecrow1000 da Scarecrow1000 16:19, 5 May 2012 (UTC)
Hi James!
[
edit
]
You may know me from Brickipedia as Dataman1(or simply Jake) but now that I've started playing Minecraft, I've joined the wiki. Look for me or Sam(he goes by Roadkill on most servers)(and has his own(IP:127.0.1.1:25565)). Our favorite server is play.melonmc.com, so look for us there. Dataman 02:59, 9 October 2012 (UTC)
Great Server
[
edit
]
We've been playing on Minebuilders a lot lately. Here's the server address: minebuilders.me
talk 15:52, 31 January 2013 (UTC)
Weird village
[
edit
]
I found this a while back and was wondering about it: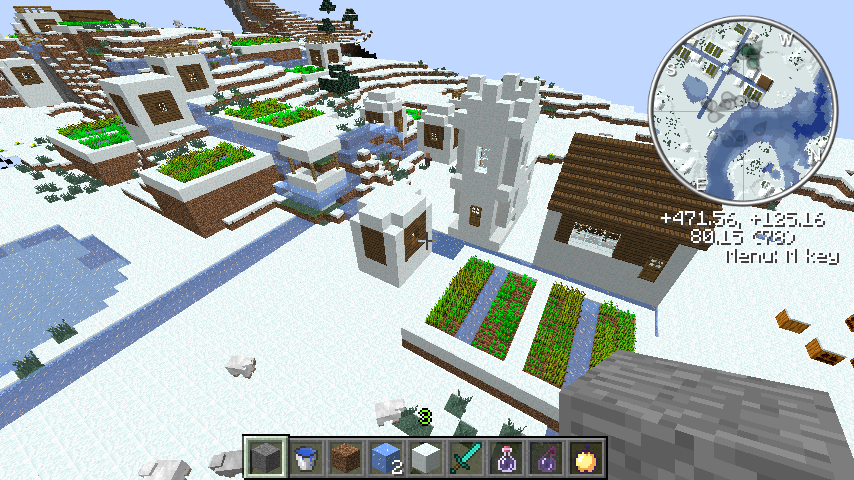 talk 18:51, 2 February 2013 (UTC)