As part of the Unified Community Platform project, your wiki will be migrated to the new platform in the next few weeks. Read more here.
Texture Update

This page uses many images.
It is not recommended for people with limited or slow internet connections to read through this page.
Texture Update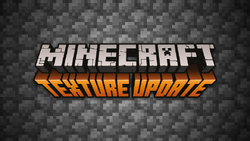 Download

See § Downloads

Release date

Java Edition:
April 23, 2019 (with 1.14)
Bedrock Edition:
March 19, 2019 (with 1.10.0)
PlayStation 4 Edition:
April 15, 2019 (with 1.90)
This article is about the specific update to textures which took place in Java 1.14 and Bedrock 1.10.0. For an extensive history of block texture changes throughout the game's lifetime, see
History of block textures
.
The Texture Update is an update released in Java Edition 1.14[1], Bedrock Edition 1.10.0[2] (with further amendments in Bedrock Edition 1.11.0), and PlayStation 4 Edition 1.90. The update changes most of the textures in the game,[3] except for a few iconic textures like the creeper. The textures were developed primarily by JAPPA (Jasper Boerstra). The original textures (with the exception of leather horse armor) are available as a resource pack/texture pack built in-game‌[Java Edition only] or as a separate download‌[Bedrock Edition only] (named "Programmer Art" in Java Edition, and "Classic Textures" in Bedrock Edition).[4][5]
Textures
[
edit
]
Natural blocks
[
edit
]
Manufactured
[
edit
]
Utility
[
edit
]
Mechanism
[
edit
]
Creative Only
[
edit
]
Raw Materials
[
edit
]
Transport
[
edit
]
Weapons
[
edit
]
Utility
[
edit
]
Mechanism
[
edit
]
Manufactured
[
edit
]
Potions
[
edit
]
Creative Only
[
edit
]
Entities
[
edit
]
Passive
[
edit
]
Neutral
[
edit
]
Hostile
[
edit
]
Transport
[
edit
]
Miscellaneous
[
edit
]
Missed textures
[
edit
]
While the majority of textures have been updated to conform to the new art style, the following have been missed out;
Video made by slicedlime:
Downloads
[
edit
]
History
[
edit
]
Java Edition
1.14
18w43a
Changed all textures.
18w43b
Fixed a few textures.
18w44a
Changed the textures of sand, stone, andesite, enchanting table (part of obsidian), diorite, obsidian, cactus, and wheat.
18w47a
Changed the textures of all logs, planks, gold and diamond blocks, glowstone, nether bricks, and red sand and sandstone, as well as other blocks.
Minor changes to regular, mossy, cracked and chiseled stone bricks; and wheat crops.
18w47b
Changed the textures of impulse and repeating command blocks, spruce door and trapdoor, raw and cooked cod, and the tuxedo cat.
Changed the top textures of normal and stripped logs.
18w50a
Changed the textures of bed, bedrock, cobblestone, emerald block, end stone, grass, mossy cobblestone, nether quartz ore, quartz pillar, red nether bricks, red sandstone, sandstone, and spruce planks.
Changed the obsidian side and bottom textures of enchanting table, and the top texture of stripped jungle log.
Changed the textures of baked potato, fermented spider eye, all horse armor, potato, poisonous potato, and rabbit stew.
19w08a
Changed the textures of emerald block, diamond ore, diorite, grass block, snowy grass block, podzol, mycelium, oak door, stained glass, and stained glass panes.
Changed the textures of gold armor, horse armor, cake, emerald, phantom membrane, and snowball.
Changed the textures of iron golems, skeleton horses, and zombie horses.
Changed the icons of Luck and Bad Luck effects.
19w13b
Changed the texture of normal quartz block, stairs and slabs included.
Bedrock Edition
1.8.0
December 13, 2018
Released beta resource pack with the new textures.
1.10.0
beta 1.10.0.3
The Texture Update textures are now the default.
Legacy Console Edition
1.90
The Texture Update textures are now the default.
Old textures are available in the built-in "Classic Textures" texture pack.
On April 1, 2018, the Texture Update was "released" on Java Edition as an April Fools' joke and the new 8-bit default version of textures were released for Java Edition. The new textures were available in versions of 1.12.x and versions from 17w43a to 18w11a. It was announced that all editions of Minecraft would get these new textures. The new textures were actually the original textures using 8-bit color, leading to a drastic reduction in detail.[13]

The textures were reverted to the way they were before on April 2, 2018.[14] These textures cannot be re-activated by setting the device's date to April 1, 2018.

The Texture Update Beta Pack gallery on the Minecraft Marketplace in Bedrock Edition uses screenshots from the Java Edition.
In a now deleted Tweet, JAPPA announced on November 10, 2017 that the new textures would be available on "all versions" of Minecraft. However, the update has only been released on the Java Edition, Bedrock Edition, and PlayStation 4 Edition. The Xbox 360 Edition, Xbox One Edition, PlayStation 3 Edition, PlayStation Vita Edition, Wii U Edition, Nintendo Switch Edition, and New Nintendo 3DS Edition still have not received this update.[15]
References
[
edit
]