Snowlogging
This article's name is unofficial.
An official name is yet to be given to the subject matter and may change at any time.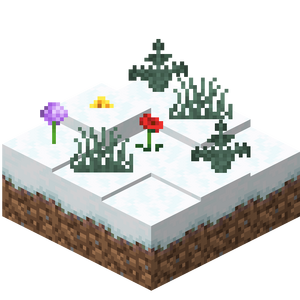 "Snowlogging" is a mechanic in Bedrock Edition that allows layers of snow to occupy the same block space as certain types of vegetation.
Process
[
edit
]
The following methods can bury plants under snow:
Placing snow where on a block occupied by a plant
Snow forming where a plant is due to snowfall.
Snow falling on top of a plant.
The following methods cannot create snowlogged plants:
Plants subject to snowlogging
[
edit
]
Snow can bury only 1-block-high plants. Of the 1-block high, non-solid plants, flowers (including wither roses), mushrooms, grass, ferns, roots, nether sprouts and fungus can be snowlogged, but beetroot crops, carrot crops, dead bushes, dead coral fans, melon stems, nether wart, potato crops, pumpkin stems, saplings, sea pickles, sugar cane, sweet berry bushes, and vines cannot be snowlogged.
Taller plants, such as sunflowers and tall grass, cannot be snowlogged. Furthermore, solid plants such as cactus cannot be snowlogged.
History
[
edit
]
This section needs expansion.
When snow falls onto sweet berry bushes, the snow moves downward slowly (because the block slows entity movement) making the bush appear snowlogged. However, the snow breaks when it eventually hits the ground.
References
[
edit
]
↑

Some marketplace maps bypass this though. Sometimes it bugs and creates plants in other blocks like fences or carpet. (Can be seen on Festive Mash-up behind a building near spawn)