Redstone Ore
Redstone ore is the ore block from which redstone is obtained.
Obtaining
[
edit
]
Natural generation
[
edit
]
Redstone ore can generate in the Overworld in the form of mineral veins. Redstone ore attempts to generate 8 times per chunk in veins of size 1-8, from altitudes 0 to 15, in all biomes.
Redstone ore is commonly found in caves with lava pools as well as some Lapis Lazuli Ores. As of Java Edition 1.16.4, on average they generate 29.5 ores per chunk.
Breaking
[
edit
]
Redstone ore can be mined with an iron pickaxe or higher, or it drops nothing. If mined with Silk Touch, the block drops itself. Otherwise, the block drops 4 or 5 redstone dust (or more with Fortune, averaging at 6 redstone dust with Fortune level 3[1]).
Block

Redstone Ore

Hardness
3
Tool
Breaking time[A]
Default
15

Wooden

7.5

Stone

3.75

Iron

0.75

Diamond

0.6

Netherite

0.5

Golden

1.25
↑ Times are for unenchanted tools as wielded by players with no status effects, measured in seconds. For more information, see Breaking § Speed.
Redstone ore produces light (strength 9) and red particles when clicked, updated, or contacted by any mob (exceptions being a sneaking player and spiders). This effect continues until the redstone ore block receives a random block tick (averaging 68.27 seconds). This effect does not actually produce redstone power, but the block changes can be detected with an observer or a block update detector.
Subsequent clickings on a redstone ore block causes it to emit an extra burst of particles per click.
Smelting ingredient
[
edit
]
Note Blocks
[
edit
]
Redstone ore can be placed under note blocks to produce "bass drum" sound.
Data values
[
edit
]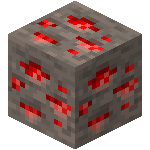 | Name | Namespaced ID | Translation key |
| --- | --- | --- |
| Redstone Ore | redstone_ore | block.minecraft.redstone_ore |
| Name | Namespaced ID | Numeric ID | Translation key |
| --- | --- | --- | --- |
| Redstone Ore | redstone_ore | 73 | tile.redstone_ore.name |
| Lit Redstone Ore | lit_redstone_ore | 74 | tile.lit_redstone_ore.name |
Block states
[
edit
]
Name
Default value
Allowed values
Description
lit
false
false
true
If the redstone ore is lit.
History
[
edit
]
Issues relating to "Redstone Ore" are maintained on the bug tracker. Report issues there.
Attempting to place a bucket of water on redstone ore causes it to produce light.
Gallery
[
edit
]
See also
[
edit
]
References
[
edit
]