Rana

This page describes content that exists only in outdated versions of Java Edition.

This feature used to be in the game but has since been removed.
Rana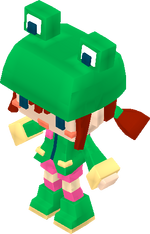 Rana was a passive mob that existed for the majority of Java Edition Indev 0.31.
Spawning
Rana spawned randomly in the world in groups with other Ranas. They could spawn at any light level as long as there was enough space.
Behavior
Rana was a passive mob. It had no animation, so it glided aimlessly around the world in the same pose.
Drops
Rana did not drop any items in-game.
Data values
ID
| Name | Savegame ID | Numeric ID |
| --- | --- | --- |
| Rana | Mob | ? |
History
Trivia
Rana was created by Dock for a project of his own years ago. When he joined the Minecraft development team, he recreated her in a new style for the game.
Rana means "frog" in Latin, and, through linguistic evolution, Spanish and Italian.
Gallery
Artwork Dock made of Rana and most likely Sky.[1]

Artwork Dock made of Rana.[2]

Artwork Dock made of Rana with her cat, Sky.[3]
See also
References