Programs and editors/Magic Launcher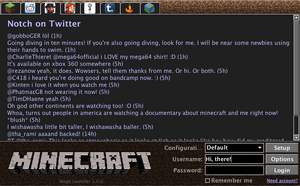 ftb:Programs and editors/Magic Launcher.
This page will soon be moved to
[discuss
]
Reason:
as per mod pages migration
This page should be
exported
to the above page, not moved via copying and pasting the page's contents. This action must be done by an administrator on the other wiki.
Magic Launcher is a 3rd party program that allows easy access to Mojang news, as well as an easy way to tweak settings and quickly install modifications. With Magic Launcher, players can see Mojang news with the click of a tab. The available sources are: Notch, Jeb and Dinnerbone on Twitter, Reddit, The Word of Notch (Tumblr), Minecraft Forums, and Minecraft Wiki.
By clicking 'Setup', players can easily tweak settings such as Allowed Memory and Window Size. Players can also install mods in Setup, by adding the .zip or .jar file to the 'Mods' menu. Players find it easier to use mods with the mod compatibility feature and the community news tabs. It also lets players play their old version .jars without having to rename the version's minecraft.jar.
Also if you click 'Options', it will tell you the version, location of the '.minecraft' folder and the launcher version, as well as the language, news and 'Close after login' checkbox. It will tell you the latest version of magic launcher so you don't have to end up going to the website over and over again, looking for an update.
You may also click 'snapshots', 'browse', 'get latest', or 'Show log' and it will perform the action you chose.