Pig Tales
This article needs to be updated.
The reason given is: Many of the links are dead and the article is written in present tense.
Please update this article to reflect recent updates or newly available information.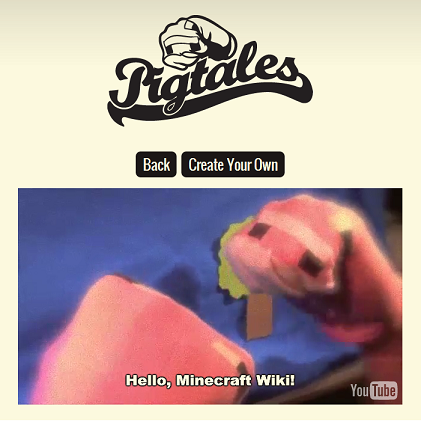 Pig Tales was a mini site within Minecraft.net that allowed users to create and share your own conversations that starred two Minecraft Pig sock puppets known as Pig #1 and Pig #2 in front of an obviously fake set. The conversation ended with a dramatic zoom-in on Pig #1. The films were made in retro style and were "produced" by a fake Swedish company called Mackapar Films.
The mini site was set up on August 22, 2011 and on August 26th, the Pig Tales conversation were revealed. These Minecraft socks were made by a Swedish company called Happy Socks and are listed on their website here.
As of the Minecraft.net 2.0 Redesign, this site is no longer available.
The video Pig Tales is based on was uploaded by a YouTube user named BengtAndRon but the video itself, titled "Encounter in the Park" is unlisted.
The man "acting" (holding the socks) is Jeb.
Mackapär is actually a Swedish word for gadget, which is a synonym to the word mojäng.
The video shown was not an actual YouTube video, but rather a .swf flash animation.