Nether Fortress
Nether Fortress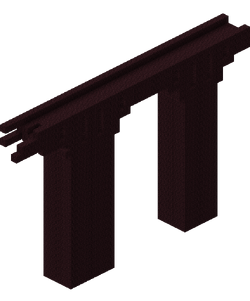 A Nether fortress, or simply fortress, is a large complex of bridges, corridors, and towers found in the Nether.
Generation
[
edit
]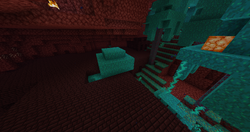 Nether fortresses are generated in all Nether biomes. Fortresses can only generate in quadrants (368×368-block-sized areas) that do not contain another fortress or a bastion remnant.
Nether fortresses may be generated in inconvenient places, where half of or even the majority of the fortress is buried in netherrack. In such a case, the interior is not filled with netherrack; all hallways and passages are clear except for open walkways and bridges. It is possible but rare for glowstone to generate inside the fortress pathways.
Structure
[
edit
]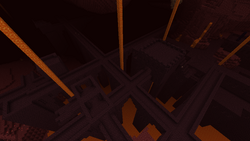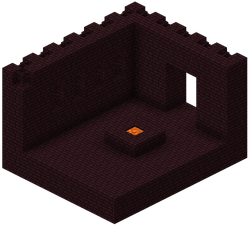 Nether fortresses are large complexes, composed of nether bricks materials, that are supported by massive pillars that tower high above the lava oceans. A fortress has two areas, an exterior area of open bridges and an interior area of enclosed corridors. Both the bridges and corridors can end in a "broken" structure or may simply end without elaboration. Fortresses can tunnel through netherrack, giving the "exterior" areas an appearance of tunnels with nether brick floor and netherrack walls and ceilings. At broken sections the terrain is not cleared, which may create a tunnel that leads straight into a wall of netherrack.
The exterior consists of:
Straight bridges.
Up to 5 plain four-way crossings.
Up to 4 four-way crossings with arches made of nether brick and nether brick fence.
Up to 4 small rooms with a single entrance, and full-block "stairs" leading to the roof, which may have a single path leading out.
The interior of the structures have 1×2 windows with nether brick fences as the windowpanes. The fences also form gate-like structures at the entrances of some rooms and corridors. Rooms include:
The lava well room, which is the connection between the interior and exterior areas.
Straight corridors.
Up to 5 four-way crossings.
Up to 20 corridor turns (10 right-turns and 10 left-turns), each with a 1⁄3 chance of having a loot chest in the corner.
Up to 3 stairways (made from actual stair blocks) leading downward.
Up to 2 three-way intersections with a small exterior balcony.
Up to 2 stairways leading up to an open landing, which have patches of soul sand and nether wart at the base of the stairs, a corridor leading away from the upper landing, and a corridor behind the stairs. If the room is generated embedded in netherrack, only one block above the landing is cleared.
Fortresses use a list of possible mobs to spawn that is separate from the rest of the Nether. Fortresses spawn magma cubes at a much higher rate, and also spawn two exclusive mobs not found anywhere else: blazes and wither skeletons. Normal skeletons can also appear. Endermen and ghasts do not spawn in fortresses.
In Java Edition, the spawning algorithm has two checks:
It checks if the spawn coordinates are within the "bounding box" of a single piece (e.g. corridor or walkway) of the fortress. In this case the block type of the ground does not matter.
It checks if the spawn coordinates are within the "bounding box" of the entire fortress and whether the ground consists of nether bricks.
If either check passes, it uses the special mob list for fortresses rather than the general list for the Nether when choosing the mob to spawn. The actual mob spawning proceeds as normal for the mob chosen from this list.
In Bedrock Edition, instead of spawning anywhere within a structural bounding box, mobs spawn only on the northwest corner of various blocks scattered few and far between throughout the fortress. In order to identify these spawning spots, glass panes must be placed all over the fortress at the second block up from the ground.
Fortresses generate nether fortress loot with chests in the indoor sections placed at some corridor turns.
In Java Edition, each nether fortress chest contains 2–4 item stacks, with the following distribution:
In Bedrock Edition, each nether fortress chest contains 2–4 item stacks, with the following distribution:
Advancements
[
edit
]
| Icon | Advancement | In-game description | Parent | Actual requirements (if different) | Namespaced ID |
| --- | --- | --- | --- | --- | --- |
| | A Terrible Fortress | Break your way into a Nether Fortress | Nether | Enter a nether fortress. | nether/find_fortress |
History
[
edit
]
Issues relating to "Nether Fortress" are maintained on the bug tracker. Report issues there.
Gallery
[
edit
]