Minecraft

Earth:

Jolly Llama
This article needs to be updated.
The reason given is: Slight update on the health of the Jolly Llama, please check Player Journal first before updating
Please update this article to reflect recent updates or newly available information.

This Minecraft Earth article is a stub.
Jolly Llama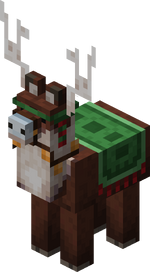 | | | |
| --- | --- | --- |
| " | ''The jolly llama is a very festive animal only seen during the holidays. It loves to seek out and eat ferns that fill it with joy, causing it to jump around the environment jingling its bells. Jingle Jangle.'' | " |
| | — Player Journal Description | |
The Jolly Llama is a neutral mob that serves as a Christmas-themed variant of the llama found only in Minecraft Earth.
Obtaining
[
edit
]
The Jolly Llama is obtainable by scanning specific QR codes in various parks around the world or by completing one of the challenges in Season 6. It was also originally obtainable as a rare drop from grassland tappables during the winter season of 2019. It can also be obtained by purchasing the "Ranger's Nest" and "Jolly's Lodge" buildplate.
Behavior
[
edit
]
Jolly llamas look for Fern and Large Fern and eat them. After eating them, they start prancing around and make a jingling noise when they hop.
Data values
[
edit
]
History
[
edit
]
Unlike a normal llama, the texture of the width of the carpet layer and the height of the nose layer of Jolly llamas are one pixel larger.
The challenge to get the Jolly Llama in Season 6 was to "Collect a Rare Adventure Chest."
Jolly Llama, along with the Bone Spider are one of the mobs in Minecraft Earth that cannot be obtained in any type of tappables, however the Jolly Llama was obtainable from tappables during winter of 2019, though it is no longer available in that manner.
The biome category of the journal reveals that jolly llamas spawn in snowy tundras.