Minecraft

Earth:

Bone Spider

Bone Spider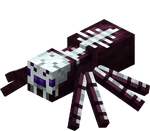 Health points

32 × 16

Behavior

Hostile

Attack strength

Normal Attack: 3
Bone Shards: 2 - 6

Hitbox size

Height: 0.7 Blocks
Width: 0.6 Blocks
| | | |
| --- | --- | --- |
| " | The bone spider is a vicious and scary beast, hiding in the darkest recesses of caves. It sneaks up on its enemy spitting out sharp shards of bones causing high levels of damage. Yuk! | " |
| | — Player Journal Description | |
The Bone Spider is a variant of the spider that is covered in a bone texture found only in Minecraft Earth.
Appearance
[
edit
]
The bone spider is black in most of the body. Its Upper body and legs have a visible white bone texture, with a dark red around the bones. The bone spider face is white in the most part, but the bottom of the face is black. Also, has purple eyes.
Obtaining
[
edit
]
Bone spiders are of rare mobs that can only be obtained from Epic and Rare Adventure Chests. They can also be obtained from the "Level 25" buildplate.
Behavior
[
edit
]
Bone spiders are hostile toward players, melon golems, and furnace golems. Their melee attack deals 3


. Additionally, they can shoot bone shards as a ranged attack.
Bone shard
[
edit
]
Bone spiders shoot bone shards at players. The player takes 2

– 6



of projectile damage upon being hit.
When it is killed, the bone spider drops one of these items:
Data values
[
edit
]
History
[
edit
]