Minecraft

Dungeons:

Zombie
This article is a work in progress.

This page would benefit from the addition of isometric renders.
Please remove this notice once you've added suitable isometric renders to the article.
The specific instructions are: Idle Model from Dungeons, to make it different from the base game.
Zombie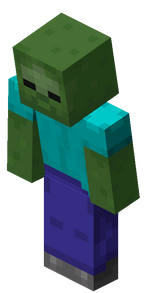 Zombies are common undead hostile mobs that appear in most levels in Minecraft Dungeons. They appear as green-skinned humanoids with blue clothes, as they do in the base game. They have several variants with scaling stats, including an armored version.
Spawning
[
edit
]
The Zombie can be found naturally in the Squid Coast, Creeper Woods, Creepy Crypt, Soggy Swamp, Soggy Cave, Pumpkin Pastures, Arch Haven, Redstone Mines, Fiery Forge, Cacti Canyon (Canyon), Underhalls, Highblock Halls, Dingy Jungle, Overgrown Temple and the Panda Plateau.
They can also be summoned by Necromancers in the Cacti Canyon (Desert), Desert Temple and the Lower Temple.
Zombies also spawn when night falls, regardless of location, when at least one player dies in multiplayer.
Behavior
[
edit
]
Zombies are hostile towards and attack players on sight, walking slowly towards the player until in close range, at which point they will attack by raising their hands and swooping them down.
Health points
[
edit
]
Attack strength
[
edit
]
Zombies and all its other variants sometimes "sleep" when idle.