Minecraft

Dungeons:

Vindicator
This article is a work in progress.
Vindicator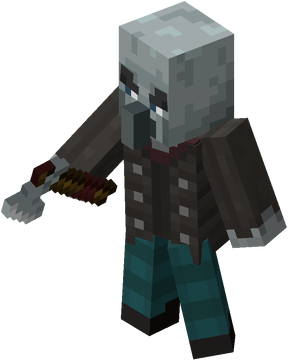 | | |
| --- | --- |
| Behavior | Hostile |
| Natural equipment | |
Vindicators are common illagers and hostile mobs equipped with axes found on most levels in Minecraft Dungeons.
Appearance
[
edit
]
Similar to the original vindicator with some texture change. But they don't have arm close animation like original game.
Spawning
[
edit
]
Vindicators spawn in Squid Coast, Creeper Woods, Creepy Crypt, Pumpkin Pastures, Arch Haven, Soggy Swamp, Soggy Cave, Redstone Mines, Fiery Forge, Cacti Canyon, Highblock Halls, Underhalls and Obsidian Pinnacle, where they can be summoned by the Arch-Illager. They can also be found in the DLC in the Frosted Fjord, Lone Fortress, and Lost Settlement
Behavior
[
edit
]
Vindicators attack the player on sight. They usually move faster than other melee mobs. If it sees a player, it charges and attacks with an axe.
Although vindicator have high move speed, it have more delay than other melee mobs when it attack. Their attack speed slightly slower than zombie but deal more damage and tougher.
The amount of health depends on the difficulty; on Default Mode, it has 12 to 120 hp, on Adventure Mode, it has 120 to 624 hp and on Apocalypse Mode, it has 624 to 3330 hp.
Issues relating to "Vindicator" are maintained on the bug tracker. Report issues there.
Relations
[
edit
]