As part of the Unified Community Platform project, your wiki will be migrated to the new platform in the next few weeks. Read more here.
Minecraft Dungeons: The Rise of the Arch-Illager
Minecraft Dungeons:
The Rise of the Arch-Illager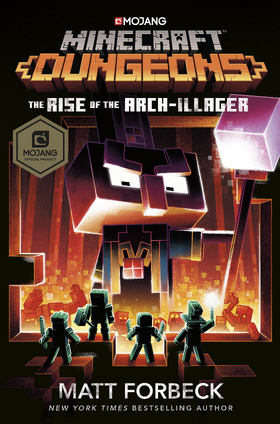 | | |
| --- | --- |
| Author | |
| Audio read by | Dan Bittner |
| Cover artist | M.S.Corley |
| Country | |
| Language | English |
| Genre | Fiction |
| Set in | |
| Publisher | |
| Published | July 7, 2020 |
| Media type | Print, Digital |
| Pages | 240 |
| ISBN | 978-0-399-180811-1 |
| OCLC | 1124523530 |
Minecraft Dungeons: The Rise of the Arch-Illager is a Minecraft Dungeons novel. It is authored by Matt Forbeck and was published by Del Rey Books on July 7, 2020.[1] An audiobook was released on the same day.[1]
Synopsis
[
edit
]
Brave heroes have banded together to take a perilous journey through the war-riven overworld to defeat the Arch-Illager and his formidable army. But how did that army come to be? And just where did the Arch-Illager come from?
The terrible truth behind the Arch-Illager is that he never asked for ultimate power. Known as Archie, this little Illager is bullied by his fellow Illagers and mistrusted by fearful Villagers. Archie only ever wanted a place to call home but he finds himself shunned by all. As he wanders through deep forests and up craggy mountains, he stumbles upon a dark cavern—with a sinister secret waiting inside. Archie discovers an object which whispers to him promises of power: the Orb of Dominance. With it, Archie realizes he can wield incredible magic and reshape a world that turned its back on him. All he needs to do is exactly what it tells him.
After all, it's called the Orb of Dominance for a reason, right? But is it named for the way Archie uses it—or is it using him?

Spoiler warning! This section contains detailed information about Minecraft Dungeons: The Rise of the Arch-Illager that may spoil your enjoyment of it. Read at your own risk!
References
[
edit
]
Help
Game customization
Editions

Java
Bedrock

| | |
| --- | --- |
| Merged | |
| Ports to consoles | |
| Discontinued | |

Other
Discontinued

Games
Films
Novels
Other media
Events
Official merchandise
Miscellaneous