Minecraft

Dungeons:

Locations
This page is a work in progress.
There are many different locations to find and explore within the world of Minecraft Dungeons. They are typically unlocked through completing predecessor locations, although in the cases of some levels they are unlocked through secrets, these are know as Secret Levels. Locations are able to be traveled to from the map once players have reached or returned to the Camp. They do not appear on the map until they are unlocked. Due to the nature of how the levels are unlocked, it is entirely possible to skip levels to complete the main story. There are a maximum of 26 playable levels at any given time if you have purchased all of the DLC's and unlocked all of the secret levels, and daily trials.
There are three main things that can be found in a location: Emeralds, Consumables, and permanent objects like Weapons, Armor and Artifacts.
Overworld locations
[
edit
]
The following main missions and secret missions can be found in the Overworld:
Island Realms locations
[
edit
]
The Island Realms is the main area which the two DLC packs take place. This area contains two islands: Jungle Awakens and Creeping Winter.
Jungle Awakens
[
edit
]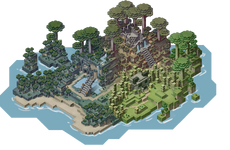 See Jungle Awakens for further details. It contains the following missions.
Creeping Winter
[
edit
]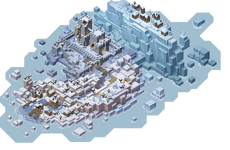 See Creeping Winter for further details. It contains the following missions: