Java Edition Indev 0.31 20100124
0.31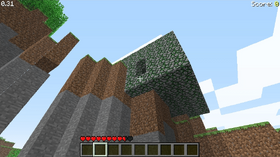 Edition
Release date

January 24, 2010

Downloads

Client not archived
No corresponding server
This version is currently missing.
While this version is known to exist it is
missing from the launcher
and has not been archived elsewhere, meaning that it is currently
lost
.
If you believe you have a copy of this version, please post on
the talk page
.
A version of Indev 0.31 was released on January 24, 2010, at 21:20 UTC.[1]
Additions
[
edit
]
Can be used to store blocks/items.
General
The player can now drop whole stacks of items instead of one at a time.
Non-mob entities
[
edit
]
Now has a new sound effect.
World generation
[
edit
]
New generated structure.
Player would spawn with chests full of every accessible block and tool in the game.
Changes
[
edit
]
Once again sets flammable objects on fire
General
Stacked blocks limit changed back to 99 items per stack.
Texture has been revised.

The axe has been repositioned to the left instead of the right.
References
[
edit
]