Java Edition Indev 0.31 20100122
This version is currently missing.
While this version is known to exist it is
missing from the launcher
and has not been archived elsewhere, meaning that it is currently
lost
.
If you believe you have a copy of this version, please post on
the talk page
.
0.31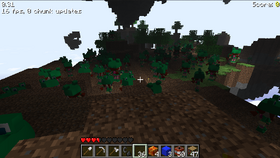 Edition
Release date

January 22, 2010

Downloads

Client not archived
No corresponding server
A version of Indev 0.31[1] was released on January 22, 2010.
Additions
[
edit
]
When placed, the block would create infinite lava which would replicate infinitely to fill up specific volumes.
Added to the inventory
Can now be used to fire arrows.
Added to the inventory.
World generation
[
edit
]
General
Liquid spawner is now in the level generator.
Fluids can spawn above sea level and on floating islands.
New lighting pass, preventing stack overflows on huge deep floating maps
Changes
[
edit
]
General
Blocks can now be placed on resource items, pushing them out.
Lava works like water now but slower.
Stack size reduced to 50 from 99.

Water and Lava source blocks are now given to the player in stacks of 5.[2]
Half of the axe head is removed.
Added as an item.
Now require a Bow to fire.
The arrow counter above the hotbar was removed.
Deal no damage to players or mobs yet.
Added to the inventory.
World generation
[
edit
]
Gameplay
[
edit
]
Saving
Gallery
[
edit
]
References
[
edit
]