Java Edition Classic 0.30 (Creative)
0.30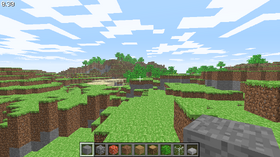 0.30 is a version of Classic released on November 10, 2009.[1] This is the creative variant of 0.30, and was released alongside its Survival Variant. A recompiled version from 2011 is available in the launcher, mislabeled as 0.30_01c,[2] a renewed version of 0.30 Creative. Server versions 1.10 and 1.10.1 were released with this version. 0.30 Creative is the last version of Late Classic Creative, and the final version of Minecraft Classic to be released.
There exist two versions of 0.30 Creative; one has a META-INF dating from 2009, and the other, which is the version in the launcher, is dated from 2011. Both have identical gameplay.
Changes
[
edit
]
Removed online saving for free accounts. There is now a message stating that you need to upgrade to Minecraft Premium when trying to access save menu on free account.
Drastically improved world generation time - previously, generating a new world could take up to 2 minutes. From 0.30 onwards, generating a new world only takes a few seconds.
Added local file saving.
Indev development
[
edit
]
There were many development versions for Indev labelled "0.30" that were never released/only released for private testing, and included features that would be included later in the game.
Gallery
[
edit
]
References
[
edit
]