Java Edition Classic 0.0.21a
The pre-reupload version of this version is currently missing.
This version has been reuploaded at one point in time. While the reuploaded version has been archived, the pre-reupload has not, meaning that it is currently
lost
.
If you believe you have a copy of this version, please post it on
this page's talk page
.
0.0.21a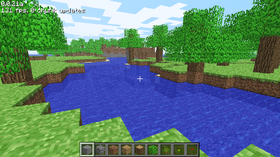 0.0.21a[1][2] is a version of Java Edition Classic released on June 22, 2009,[3] at 19:52 UTC.[1] This version is not available in the launcher, but its reupload has been archived elsewhere.
0.0.21a was reuploaded[4] at 20:09 UTC (17 minutes after release) to re-add the ability to autoclick.[5]
Changes
[
edit
]
World generation
Performance
Reupload
[
edit
]
The following lists the changes in the reupload of 0.0.21a.
Changes
[
edit
]
References
[
edit
]