Java Edition Classic 0.0.12a_03
This version is currently missing.
While this version is known to exist it is
missing from the launcher
and has not been archived elsewhere, meaning that it is currently
lost
.
If you believe you have a copy of this version, please post on
the talk page
.
It is worth noting that numerous fake copies of this version exist, so please consider checking the dates of the files inside.
0.0.12a_03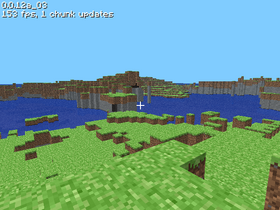 Edition
Release date

May 20, 2009

Download

Client not archived
No corresponding server
0.0.12a_03[1][2][3][4] was a version of Classic released on May 20, 2009, at 00:15 UTC.[5][note 1]
Changes
[
edit
]
The block being used to build does not show up unless it's a sapling.[6]
Gallery
[
edit
]
↑

TIGSource Forums uses UTC-8
References
[
edit
]