As part of the Unified Community Platform project, your wiki will be migrated to the new platform in the next few weeks. Read more here.
Java Edition Beta 1.7.2
From Minecraft Wiki
Minecraft Beta 1.7.2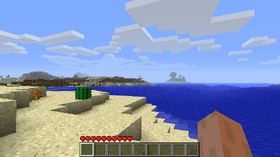 Edition
Release date

July 1, 2011

Download
Protocol version

14

Other instances
of 1.7.2
Beta 1.7.2 is a version of Java Edition Beta released on July 1, 2011, to fix some of the bugs and crashes in Beta 1.7_01.
3 bugs fixed
Crashed worlds now work again.[1]
Disappearing piston fixes.[2]
Pistons that caused crashing for multiplayer servers fixed.
References
[
edit
]