As part of the Unified Community Platform project, your wiki will be migrated to the new platform in the next few weeks. Read more here.
Java Edition Alpha v1.1.2
Minecraft Alpha v1.1.2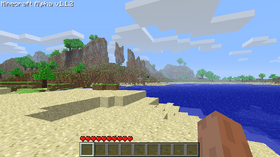 Alpha v1.1.2[1][2][3] is a version of Alpha released on September 18, 2010 to fix sound and graphical bugs. Shortly after this version's unannounced release,[note 1] Notch made temporary, load-reducing changes to his web server. Since one such change was disabling payments, he decided to declare Minecraft free-to-play for the weekend.[4][5][6]
Changes
[
edit
]
Attempted to fix a bug involving sounds
Gray screen bug is fixed
References
[
edit
]