Java Edition Alpha v1.0.6_01
From Minecraft Wiki
Minecraft Alpha v1.0.6_01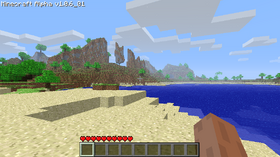 Alpha v1.0.6_01[2][3] is a version that made changes to boats, among other changes.
Changes
[
edit
]
Boats can now be placed out of water.
Boats will only break on impact at high speeds.
Boats create water splash particles when going fast enough to break upon impact.
Boats turn more smoothly.
1 bug fixed
Fixed stuttering after death bug.
References
[
edit
]
Minecraft: Java Edition versions
Versions
Development cycle
Other updates
April Fools updates

Beta

1.0
1.1
1.2
1.3
1.4
1.5
1.6
1.7
1.8
Adventure Update (Phase 1)
(Guide)