Java Edition 20w10a
Minecraft 20w10a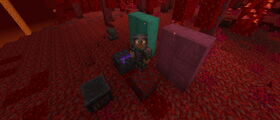 20w10a is the fifth snapshot for Java Edition 1.16, released on March 4, 2020,[1] which gives smithing tables a functionality and adds hyphae and nether ambient sounds.
Additions
[
edit
]
A variant of stems with the bark on all 6 sides.
Also has a stripped variant.
General
[
edit
]
Added 95 ambient sounds to the Nether.

Different sounds play in each Nether biome.
Added hoglin_repellents block tag.

Contains warped fungus.
Does not contain potted warped fungus.
Hoglins will avoid blocks in this tag.

Added piglin_repellents block tag.
Changes
[
edit
]
Inventory texture has been changed.
Programmer Art texture is now the old 2011 texture.
Added functionality: it is used to upgrade diamond items into Netherite versions.
Inventory texture has been changed.
Can no longer be crafted using a crafting table.
Changed the texture of all netherite armor, tools, and weapons.
Non-mob entities
[
edit
]
Gameplay
[
edit
]
Bartering has been tweaked again.[3]
General
[
edit
]
The target_hit trigger has been changed.
Removed Realms code from the client, though its assets remain.
Entity UUIDs
All "block states" files have improved spacing, and now define the namespace when referring to the model.
All model files now define the namespace when referring to a different model.
Removed translation strings of:

mco.create.world.seed.
mco.trial.title.
mco.trial.unavailable.
Added crimson hyphae and stripped crimson hyphae to the crimson_stems block and item tags.
Added warped hyphae and stripped warped hyphae to the warped_stems block and item tags.
From released versions before 1.16
From the 1.16 development versions
From the previous development version
MC-173165 – Piglin bartering loot table contains an extra set_count function.
MC-173168 – The word "backup" appears instead of "back up".
MC-173176 – Serialization error affecting operators list and whitelist.
MC-173185 – Cannot put efficiency enchantment on a hoe in survival mode.
MC-173209 – All hoes have the same mining speed.
MC-173210 – Target block does not work with ender pearls and bottles o' enchanting.
MC-173244 – Target block moved by pistons permanently keep their signal strength.
MC-173272 – Shooting a firework rocket into a target won't set off a redstone signal.
MC-173327 – Target is not flammable but hay bales are.
Video made by slicedlime:
References
[
edit
]