Java Edition 18w07c
Minecraft 18w07c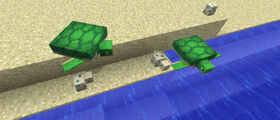 18w07c[1] is the twentieth snapshot released for Java Edition 1.13, which updated translations and fixed a few bugs.
Changes
[
edit
]
General
[
edit
]
Camera
From released versions before 1.13
From the 1.13 development versions
MC-125370 – Cocoa beans can't be placed on stripped jungle logs.
MC-125396 – Two high sea grass placed inside ocean monuments overrides parts of the walls.
MC-125400 – Bubble columns spawn inconsistently.
From the previous development version
MC-125474 – Opening the creative inventory while the crafting recipe book is enabled causes a crash.
Video made by slicedlime:
References
[
edit
]