As part of the Unified Community Platform project, your wiki will be migrated to the new platform in the next few weeks. Read more here.
Java Edition 17w47b
Minecraft 17w47b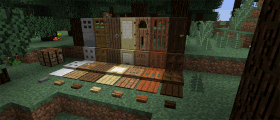 17w47b[1] is the seventh snapshot released for Java Edition 1.13, and was released to fix some of the bugs in the 17w47a snapshot.
Changes
[
edit
]
From released versions before 1.13
From the 1.13 development versions
MC-121630 – Shift-clicking "Destroy Item" button doesn't clear inventory.
MC-121701 – Pressing escape when sleeping in bed doesn't exit the bed.
From the previous development version
Video made by slicedlime:
References
[
edit
]