Invisibility
Invisibility
| | |
| --- | --- |
| Sources | See § Causes |
| Particle | #7F8392 (light gray) |
| Type | Positive |
Invisibility is a status effect that turns entities invisible. It has one potency level (active), but its duration can be extended.
Mechanics
[
edit
]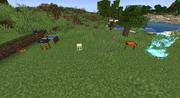 Invisibility causes the affected mob to disappear from view although it is still present.
Boss mobs are immune to invisibility.
Certain features of entities are not affected by invisibility:
Mobs do not attack or sense the player until the player is a lot closer than normal.

A player with no armor can be detected at 7% of the usual detection distance.
Any single piece of armor increases this to 17.5% of the usual distance, and each additional piece increases this by another 17.5%.
After detecting the player, a mob continues to follow as if the player is visible.

Cats behave as though the entity affected is visible.
Additional methods of reducing detection by mobs include:
Invisibility prevents players from getting the Dolphin's Grace effect naturally.
Endermen have a reduced provocation range if the player looking at them is invisible.
Data values
[
edit
]
| Name | Namespaced ID | Numeric ID | Translation key |
| --- | --- | --- | --- |
| Invisibility | invisibility | 14 | effect.minecraft.invisibility |
| Name | Namespaced ID | Numeric ID | Translation key |
| --- | --- | --- | --- |
| Invisibility | invisibility | 14 | potion.invisibility |
Advancements
[
edit
]
Icon
Advancement
In-game description
Parent
Actual requirements (if different)
Namespaced ID

A Furious Cocktail

Have every potion effect applied at the same time
Local Brewery
Have all of these 13 potion effects applied to the player at the same time:

The source of the effects is irrelevant for the purposes of this advancement. Other status effects, if any, may be applied to the player, but are ignored for this advancement.
nether/all_potions

How Did We Get Here?

Have every effect applied at the same time
A Furious Cocktail
Have all of these 26 effects applied to the player at the same time:

The source of the effects is irrelevant for the purposes of this advancement. Other status effects, if any, may be applied to the player, but are ignored for this advancement.
Note: This is a hidden advancement, meaning that it can be viewed by the player only after completing it.
nether/all_effects
History
[
edit
]