Glazed Terracotta
"

Once you've stained your terracotta to a hue of your choosing, stick it in a furnace with a suitable fuel, and smelt it into its final form: beautiful, colorful blocks, textured with ornate patterns, perfect for adorning smaller sized builds.

"
— Ash Davis[1]
Glazed terracotta is a vibrant solid block that comes in the 16 regular dye colors, obtained by smelting colored terracotta.
Obtaining
[
edit
]
Breaking
[
edit
]
Glazed terracotta requires a pickaxe to be mined. When mined without a pickaxe, it drops nothing.
Block

Glazed Terracotta

Hardness
1.4
Tool
Breaking time[note 1]
Default
7

Wooden

1.05

Stone

0.55

Iron

0.35

Diamond

0.3

Netherite

0.25

Golden

0.2
↑ Times are for unenchanted tools as wielded by players with no status effects, measured in seconds. For more information, see Breaking § Speed.
Natural generation
[
edit
]
Purple glazed terracotta generates in some cold underwater ruins.
Yellow glazed terracotta generates in mason houses in savanna villages.
Orange glazed terracotta generates in savanna village armorer houses.
White glazed terracotta generates in some desert village buildings.
Lime glazed terracotta generates in one of the desert village temples.
Light blue glazed terracotta generates in toolsmith houses in desert villages.
Smelting
[
edit
]
Glazed Terracotta can be obtained by smelting any stained terracotta. Unstained terracotta cannot be smelted.
Trading
[
edit
]
Expert-level stone mason villagers sell 1 glazed terracotta for an emerald as part of their trades.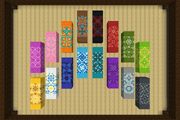 Due to its strikingly colorful appearance, glazed terracotta is primarily used for decoration. As a building material, its hardness is slightly less than stone, and its blast resistance is even lower than terracotta.
While glazed terracotta can be pushed by sticky pistons, slime blocks, and honey blocks, it is unique among blocks in that it cannot be pulled. It does not stick to slime and honey blocks.
Placement
[
edit
]
When placed, glazed terracotta's texture rotates relative to the direction the player is facing while placing the block. If several glazed terracotta blocks of the same color are placed in the "correct" orientation in a 2×2 or greater area, the textures align to create a singular image, as demonstrated in the image to the right.
The magenta glazed terracotta pattern includes an arrow (⬆) design that can be used to point to things or direct players. A guide is shown below, in order to correctly place the arrow direction (based on testing).
| Facing | Arrow direction |
| --- | --- |
| Front | Pointing right ► |
| Left | Pointing down ▼ |
| Right | Pointing up ▲ |
| Above | Pointing down ▼ |
Texture
[
edit
]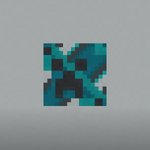 Glazed Terracotta blocks are designed to form a larger, cohesive pattern when placed in the correct 2×2 configuration. Most textures have reflection symmetry along a diagonal line that goes from corner to corner, though the colors of individual pixels can differ slightly.
Although the design of each individual glazed terracotta block is up for interpretation, there are some intentional details in certain blocks:
Magenta blocks contain directional arrows.
Cyan blocks contain a creeper's face.
Lime blocks contain a crossbow.
Bedrock Edition: [needs in-game testing]
Data values
[
edit
]
| Name | Namespaced ID | Translation key |
| --- | --- | --- |
| White Glazed Terracotta | white_glazed_terracotta | block.minecraft.white_glazed_terracotta |
| Orange Glazed Terracotta | orange_glazed_terracotta | block.minecraft.orange_glazed_terracotta |
| Magenta Glazed Terracotta | magenta_glazed_terracotta | block.minecraft.magenta_glazed_terracotta |
| Light Blue Glazed Terracotta | light_blue_glazed_terracotta | block.minecraft.light_blue_glazed_terracotta |
| Yellow Glazed Terracotta | yellow_glazed_terracotta | block.minecraft.yellow_glazed_terracotta |
| Lime Glazed Terracotta | lime_glazed_terracotta | block.minecraft.lime_glazed_terracotta |
| Pink Glazed Terracotta | pink_glazed_terracotta | block.minecraft.pink_glazed_terracotta |
| Gray Glazed Terracotta | gray_glazed_terracotta | block.minecraft.gray_glazed_terracotta |
| Light Gray Glazed Terracotta | light_gray_glazed_terracotta | block.minecraft.light_gray_glazed_terracotta |
| Cyan Glazed Terracotta | cyan_glazed_terracotta | block.minecraft.cyan_glazed_terracotta |
| Purple Glazed Terracotta | purple_glazed_terracotta | block.minecraft.purple_glazed_terracotta |
| Blue Glazed Terracotta | blue_glazed_terracotta | block.minecraft.blue_glazed_terracotta |
| Brown Glazed Terracotta | brown_glazed_terracotta | block.minecraft.brown_glazed_terracotta |
| Green Glazed Terracotta | green_glazed_terracotta | block.minecraft.green_glazed_terracotta |
| Red Glazed Terracotta | red_glazed_terracotta | block.minecraft.red_glazed_terracotta |
| Black Glazed Terracotta | black_glazed_terracotta | block.minecraft.black_glazed_terracotta |
Block data
[
edit
]
In Bedrock Edition, glazed terracotta uses its block data to specify its orientation (which is opposite to the direction the player was facing when the block was placed).
Bits
Values
0x1
0x2
A 2-bit field storing a value from 0 to 3:

0: south (the player was facing north when this block was placed)
1: west
2: north
3: east

0x4
0x8
Unused.
Block states
[
edit
]
Name
Default value
Allowed values
Description
facing
north
east
north
south
west
The opposite from the direction the player faces while placing the block.
Name
Default value
Allowed values
Description
facing_direction
2
0
1
2
3
4
5
The opposite from the direction the player faces while placing the block.
History
[
edit
]
Issues relating to "Glazed Terracotta" are maintained on the bug tracker. Report issues there.
According to Jeb, the inspiration for glazed terracotta blocks came from a Moroccan-styled bathroom floor at a hotel in California.[6]
Glazed terracotta blocks were designed by Johan Aronson.[7]
Glazed terracotta blocks are the only blocks that can be instantly mined only with a golden tool.
Gallery
[
edit
]
The first instance of glazed terracotta appears in this banner for snapshot 17w06a. (Top center of structure)
References
[
edit
]