Fire Charge
Fire charges are combat items that light fires when used.
Obtaining
[
edit
]
Chest loot
[
edit
]
Crafting
[
edit
]
Bartering
[
edit
]
Piglins may barter 1-5 fire charges when given a gold ingot.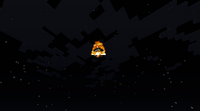 Fire charges can be used as ammunition for dispensers, or as a substitute for flint and steel.
When used, it instantly lights a fire, similar to flint and steel. The fire charge is consumed in the process. It can prime TNT and light nether portals and campfires like flint and steel. However, it cannot be used to detonate creepers.
When a fire charge is fired from a dispenser, it acts like a blaze's fireball, flying in a straight line (with a random offset from the dispenser's line of sight). It places fire when it hits a block. It produces no explosive effect. If it hits a player or entity, it can deal up to 9





damage: 5



projectile damage, and 4


fire damage from being set on fire. These fireballs can prime minecarts with TNT. They cannot be deflected.
Crafting ingredient
[
edit
]
This section is missing information about do dispensers use a different sound event? are there any ways to use a fire charge that produce a different sound?.
Please expand the section to include this information. Further details may exist on the
talk page
.
Data values
[
edit
]
| Name | Namespaced ID | Translation key |
| --- | --- | --- |
| Fire Charge | fire_charge | item.minecraft.fire_charge |
| Name | Namespaced ID | Numeric ID | Translation key |
| --- | --- | --- | --- |
| Fire Charge | fireball | 385 | item.fireball.name |
| Name | Namespaced ID | Numeric ID | Translation key |
| --- | --- | --- | --- |
| Small Fireball | small_fireball | 94 | entity.small_fireball.name |
Entity data
[
edit
]
Shot fire charges have entity data that define various properties of the entity.
Advancements
[
edit
]
| Icon | Advancement | In-game description | Parent | Actual requirements (if different) | Namespaced ID |
| --- | --- | --- | --- | --- | --- |
| | We Need to Go Deeper | Build, light and enter a Nether Portal | Ice Bucket Challenge | Enter the Nether dimension. | story/enter_the_nether |
| | Bullseye | Hit the bullseye of a Target block from at least 30 meters away | Take Aim | Be at least 30 blocks away when the center of a target is shot with a projectile horizontally by the player. | adventure/bullseye |
History
[
edit
]
Issues relating to "Fire Charge" are maintained on the bug tracker. Report issues there.
The fireball entities, which are also known as "ghast fireballs," have the same texture as the small_fireball entity.
Their hit damage is actually fire damage, as seen by the fact that they do not deal damage to a player with Fire Resistance.
When a dispenser with a fire charge is placed with a block directly in front of it, the dispenser shoots through it and lights a fire on the other side.
A fire charge flies infinitely far until it hits a block or an entity, even if it is outside the player's render distance.
When shot from a dispenser, the fire charge starts out stationary and accelerates, as though it is falling rather than being launched. Fireballs shot by blazes, however, maintain the same speed all the way up to the target.
See also
[
edit
]
References
[
edit
]