Farming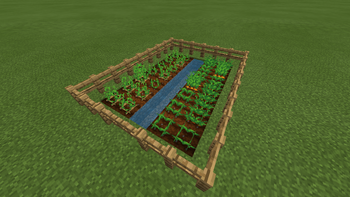 Farming refers to the systematic production of renewable resources. The technique is typically used to get blocks, food, experience and other desired items. Specific types of farming are listed below.
Automation
[
edit
]
Farms can be classified as manual, semi-automatic, and fully automatic. Manual farms rely mostly or solely on the player to harvest and restart the farm. Semi-automatic farms use mechanisms to automatically harvest the farm, but they are manually activated by the player. Fully automatic farms do not rely on the player at all and usually use mobs or more complicated mechanisms.
Mob farming
[
edit
]
Experience farming
[
edit
]
The reason to farm experience is to easily enchant items, or repair tools and armor. Many common experience farms require a difficulty above Peaceful, as they require mobs to spawn. Other uncommon farms use other ways to gain experience, such as fishing or furnaces.
Waiting at an active monster spawner for monsters to spawn. This includes mobs that do not spawn naturally without the use of spawners, such as cave spiders.
These can be automated with a water pathway transferring the mobs to where the player is standing.
Food farming
[
edit
]
Farming wheat, carrots, potatoes, beetroots, and Sweet Berries
Block farming
[
edit
]
Item farming
[
edit
]

This
article
includes a list of related items that share the same name (or similar names). If an
internal link
led you here, you may wish to change the link to point directly to the intended article.