End Stone
End stone is a block that appears in The End and, apart from generated structures, makes up all of the solid ground that exists in that dimension.
Obtaining
[
edit
]
Breaking
[
edit
]
End stone can be obtained using any pickaxe. If mined without a pickaxe, it drops nothing.
Block

End Stone

Hardness
3
Tool
Breaking time[note 1]
Default
15

Wooden

2.25

Stone

1.15

Iron

0.75

Diamond

0.6

Netherite

0.5

Golden

0.4
↑ Times are for unenchanted tools as wielded by players with no status effects, measured in seconds. For more information, see Breaking § Speed.
Natural generation
[
edit
]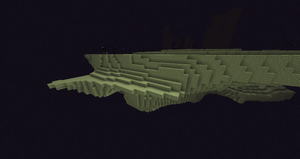 End stone is found only in The End, where it makes up all the floating islands that generate in the dimension.
Post-generation
[
edit
]
End exit portal
[
edit
]
The 16 end stone blocks under the edge of the exit portal are replaced when the ender dragon is respawned, and again when it is killed. Because End Crystals, which are used to respawn the dragon, are renewable, this does make end stone renewable.
End stone may generate close to gateway portals post-generation.
End stone has a blast resistance of 9, which is 3 more than that of ordinary stone. This is the highest blast resistance of any block movable by pistons besides anvils‌[Bedrock Edition only], ancient debris and block of netherite. It also cannot be picked up by endermen and cannot be destroyed by the ender dragon. In addition, it is the only block on which chorus flowers can be planted.
Crafting ingredient
[
edit
]
Stonecutting
[
edit
]
Bedrock Edition: [needs in-game testing]
Data values
[
edit
]
| Name | Namespaced ID | Numeric ID | Translation key |
| --- | --- | --- | --- |
| End Stone | end_stone | 121 | tile.end_stone.name |
History
[
edit
]
Issues relating to "End Stone" are maintained on the bug tracker. Report issues there.