Emotes
This page would benefit from the addition of more images.
Please remove this notice once you've added suitable images to the article.
The specific instructions are: Add GIFs of Steve and Alex using the available emotes.

Emotes are a part of the character creator that allows players to perform animations.
The character creator includes emotes. Several emotes are available for free, purchase, and as achievement rewards. The player can "equip" up to 6 of their emotes at a time. When in a world, pressing B, or
on Xbox One controllers,

/

on Nintendo Switch controllers,
on PlayStation 4 controllers, or tapping

button on the top of the screen opens the emote menu. The player can then click on an emote to perform the animation.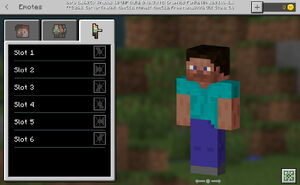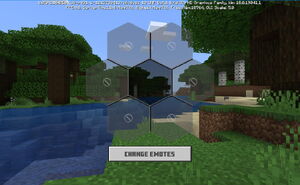 Available animations
[
edit
]
These animations are available as of Bedrock Edition 1.16.40:
Default - Unlocked automatically
"Over There!"
"Simple Clap"
"Wave"
Free - Unlocked without Minecoins
Unlockable - Unlocked via achievements
"The Hammer"
"Diamonds To You!"
"The Pickaxe"
"Faceplant"
Premium - Unlocked with Minecoins
"Over Here!"
"Break dance"
"Chatting"
"Sad Sigh"
"Golf Clap"
"Disappointed"
"Victory Cheer"
"Foot Stomp!"
"Hooray!"
"The Elytra"
"Giddy"
"Ghast Dance"
Planned animations
[
edit
]
These animations were shown at MINECON Live 2019, but have not yet been made available:[1]
History
[
edit
]
It actually doesn't matter whether the player is submerged (partially or fully) in a liquid (water or lava), flying, falling, levitating, or on dry land, just as long as the player isn't riding anything, the player would still perform the emote.
References
[
edit
]