Dripstone Caves

This page describes content that may be included in a future update to Java Edition.
Dripstone Caves
The dripstone caves biome is an underground biome filled with pointed dripstone and dripstone blocks.
Description
[
edit
]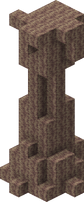 On the surface, this biome is indistinguishable from a plains biome.
Underground, dripstone caves generate as a cave biome but with dripstone blocks and pointed dripstone both hanging as stalactites and growing from the ground as stalagmites. They mostly appear like regular caves, except with patches of dripstone blocks and pointed dripstone. Large dripstone clusters structures generate occasionally inside ravines.
Dripstone caves cannot generate naturally in normal worlds, but can be generated with a buffet or custom world type.
Data values
[
edit
]
| Name | Namespaced ID | Translation key |
| --- | --- | --- |
| Dripstone Caves | dripstone_caves | biome.minecraft.dripstone_caves |
History
[
edit
]
Issues relating to "Dripstone Caves" are maintained on the bug tracker. Report issues there.
References
[
edit
]