Basalt Deltas
Basalt Deltas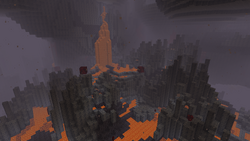 The Basalt deltas is a volcanic biome situated in the Nether.
Description
[
edit
]
The Basalt deltas is composed largely of basalt and blackstone. Its fog appears in a dull lilac color with ash particles passing by. Archipelagos with islands of different sizes can be found around the lava seas nearby.
Nether fortresses and caves filled with nether quartz ore can also be found here. Ore generates more commonly (to compensate for less netherrack to generate in).
Because the terrain in the biome is so mountainous, it can be pretty hard to build in. Bastion remnants do not generate here.
The Basalt deltas is also the most dangerous biome in the Nether due to the jagged terrain, countless deltas, ghasts and most dangerously: magma cubes. These jump from above and are amphibious (in lava). Due to their high-spawn rate, they can pose a big threat to the player even if wearing netherite armor but they also make the biome the best place to obtain magma cream. Being bumped here is more dangerous than average. Their jumping movement, however, requires more space than the player.
↑

Only 5% of spawn attempts succeed.
These music tracks play while the player is in the Basalt Deltas.
Ambience
[
edit
]
Nether ambience plays while the player is in the Nether.
Data values
[
edit
]
| Name | Namespaced ID | Numeric ID | Translation key |
| --- | --- | --- | --- |
| Basalt Deltas | basalt_deltas | 173 | biome.minecraft.basalt_deltas |
History
[
edit
]
Issues relating to "Basalt Deltas" are maintained on the bug tracker. Report issues there.
The Basalt Deltas Clicks sounds like a Geiger counter activating, possibly meaning that this biome is radioactive.
Gallery
[
edit
]