Aron Nieminen
Aron Nieminen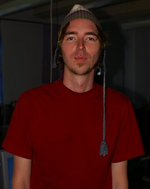 Real name

Aron Nieminen

Occupation

Developer

Nationality

Finnish

Known for

Pocket Edition
Working with Notch before Minecraft

Also known as

degussa[1]
Aron Nieminen is a Mojang employee who was in charge of Minecraft – Pocket Edition's development[2] from its conception[3] until December 13, 2012, when Jens Bergensten took over development.[4] He also worked on Scrolls, and together with Daniel Frisk, he developed Pi Edition. Aron still works with Johan Bernhardsson and Tommaso Checchi on Minecraft 's Bedrock codebase.
Aron does not maintain a Twitter account.[2][5] Notch describes him as "Very bright".[6]
Aron started work on the Pocket Edition during late 2011, and worked primarily alone (partially with Daniel Kaplan and Junkboy) until around 0.3.2 where Johan Bernhardsson stepped in.[7]
Versions of the Pocket Edition made by Aron
[
edit
]
Aron produced the following versions, alone, of the Pocket Edition:
Prerelease
Alpha 0.1.0
Alpha 0.1.1
Alpha 0.1.2
Alpha 0.1.3
Alpha 0.2.0
Alpha 0.2.1
Alpha 0.3.0
Alpha 0.3.2
Alpha 0.3.3
Since here is also developed by Johan Bernhardsson:
Alpha 0.4.0
Alpha 0.4.0 rev 2
Alpha 0.5.0
Alpha 0.6.0
Alpha 0.6.1
Alpha 0.7.0
Alpha 0.7.1
Alpha 0.7.2
After these, the game is also developed by Tommaso Checchi.
Gallery
[
edit
]
References
[
edit
]
Game Developers

Sebastian Hindefelt
Oleg Kozitsyn (Volgar)
Lucas Morales
Aron Nieminen (degussa)
Paulo Ragonha
Jakob Ryden
Emelie Sidesiö
Greg Snook
Alexander Torstling

Artists

Jakob Gavelli
Joel Garvin
Jennifer Hammervald
Markus Karlsson
Sherin Kwan
Kim Petersen
Morten N Rasmussen (MortMort)
Mariana Salimena
Brendan Sullivan (Sully)
Chi Wong

Marketplace development

Chris Dauchot
John Mercil
Quinn Richter
Todd Stevens
Greg Walls

Release management

Brogan
Josh Bullard
David Fries
Josh Mulanax

Software/system development

Jonas Bergström
Petter Gisslen
Matt Hawley
Maksim Ivanov
Maria Katsourani
Anders Martini
Jeff Ott
Wenlan Yang

Content and community

Nova Barlow
Kristina Horner
Joel Sasaki
Andreas Thomasson
Oskar Thysell

Realms development

Erik Bylund
Magnus Jäderberg
Márcio Oliveira
Billy Sjoberg
Brian Trevethan

Business development

Sarah Carton
Helen Chiang
Cesar Sima Falck
Johannes Fridd
Klas Hammarström
Jonny Hair
Shelia Ho
Alice Löfgren
Maja Samuelsson
Thomas Wiborgh

Contracts
Former

Alex Andersson
Magnus Bentling
David Carlsson
Theodore Colbing
Jill Curran
Henrik Davallius
Daniel Feldt
Elin Frykholm
Rabi Hadad
Christoffer Hammarström
Kaya Hatcher
Eliza Hearsum
Mats Henricson
Amelia Lindroth Henriksson
Fredrik Henriksson
Nicole Jansson
Carl Johnsson
Antonia Kousathana
Sara Cecilia Lempiäinen
Kevin Martinez
Ana Barata Martins
Tom Miles
Robert Miskiewicz
Oscar Nilsson
Erik Nordberg
Michael Novén
Rui Ribeiro
Emily Richardson (StinkyTiger)
Henry Shi
Johnny Sjöö
Dante Stjernburg
Annika Tripke-Lund
Chaimae Truving
Robin Thunström
Kevin Vesterlund
Angehlica Walling
Charlotte Wredesjö