Adrian Östergård
Adrian Östergård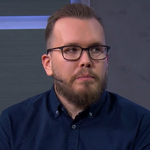 | | |
| --- | --- |
| Occupation | Product Owner |
| Nationality | Swedish |
| Languages | Swedish, English, Finnish |
| Twitter name | |
| Bug tracker profile | |
"

Snapshot day![1]

"
— Adrian Östergård on March 20, 2019
Adrian Östergård is a product owner of Minecraft: Java Edition at Mojang Studios.[2]
Biography
[
edit
]
Adrian was educated at Ålands Lyceum. His primary competencies are telecommunications, management projects, and management. He started his job as a customer support agent at Mojang from May to November of 2015 with the help of a recruitment company, Academic Work.[2]
After working as a customer support agent since December 2015, he became a project manager for Mojang starting from August of 2016.[3] After 2 years, he worked as a producer and a developer for Java Edition. Since September 2018, he became a product owner of Java Edition.[2] He announces Java Edition snapshots on Twitter and minecraft.net.
Gallery
[
edit
]
References
[
edit
]
Game Developers

David Carlton
Sebastian Hindefelt
Oleg Kozitsyn (Volgar)
Lucas Morales
Paulo Ragonha
Jakob Ryden
Emelie Sidesiö
Greg Snook
Alexander Torstling

Artists

Jakob Gavelli
Joel Garvin
Jennifer Hammervald
Markus Karlsson
Sherin Kwan
Kim Petersen
Morten N Rasmussen (MortMort)
Mariana Salimena
Brendan Sullivan (Sully)
Chi Wong

Marketplace development

Chris Dauchot
John Mercil
Quinn Richter
Todd Stevens
Greg Walls

Release management

Brogan
Josh Bullard
David Fries
Josh Mulanax

Software/system development

Jonas Bergström
Petter Gisslen
Matt Hawley
Maksim Ivanov
Maria Katsourani
Anders Martini
Jeff Ott
Wenlan Yang

Content and community

Nova Barlow
Matt Gartzke
Kristina Horner
Joel Sasaki
Andreas Thomasson
Oskar Thysell

Realms development

Erik Bylund
Magnus Jäderberg
Márcio Oliveira
Billy Sjoberg
Brian Trevethan

Business development

Sarah Carton
Helen Chiang
Cesar Sima Falck
Johannes Fridd
Klas Hammarström
Jonny Hair
Shelia Ho
Alice Löfgren
Adrian Östergård
Maja Samuelsson
Thomas Wiborgh

Contracts
Former

Alex Andersson
Magnus Bentling
David Carlsson
Theodore Colbing
Jill Curran
Henrik Davallius
Daniel Feldt
Elin Frykholm
Rabi Hadad
Christoffer Hammarström
Kaya Hatcher
Eliza Hearsum
Mats Henricson
Amelia Lindroth Henriksson
Fredrik Henriksson
Nicole Jansson
Carl Johnsson
Antonia Kousathana
Sara Cecilia Lempiäinen
Kevin Martinez
Ana Barata Martins
Tom Miles
Robert Miskiewicz
Oscar Nilsson
Erik Nordberg
Michael Novén
Rui Ribeiro
Emily Richardson (StinkyTiger)
Henry Shi
Johnny Sjöö
Dante Stjernburg
Annika Tripke-Lund
Chaimae Truving
Robin Thunström
Kevin Vesterlund
Angehlica Walling
Charlotte Wredesjö