As part of the Unified Community Platform project, your wiki will be migrated to the new platform in the next few weeks. Read more here.
Java Edition 18w14b
Minecraft 18w14b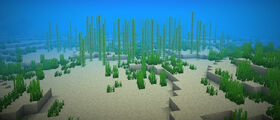 18w14b[1] is the thirtieth snapshot released for Java Edition 1.13, which added sea pickles and renamed corals.
Additions
[
edit
]
Generate in warm oceans, especially around coral reefs.
Up to 4 of them can be placed on a block.
Each one adds 3 to the light level, but only when placed underwater.
Can be smelted into lime dye.
Changes
[
edit
]
Changed the names for coral and its variants:

"Coral" is now called "Coral Block".
"Dead Coral" ia now called "Dead Coral Block".
"Coral Plants" are now called "Coral".
"Blue" coral is now called "Tube" coral.
"Pink" coral is now called "Brain" coral.
"Purple" coral is now called "Bubble" coral.
"Red" coral is now called "Fire" coral.
"Yellow" coral is now called "Horn" coral.
New coral fan textures, except for the fire coral fan.
From released versions before 1.13
MC-97952 – Enderdragon does not have a radii option
From the 1.13 development versions
From the previous development version
Video made by slicedlime:
References
[
edit
]