As part of the Unified Community Platform project, your wiki will be migrated to the new platform in the next few weeks. Read more here.
Java Edition 17w49a
Minecraft 17w49a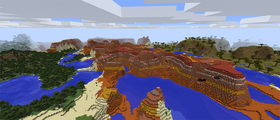 17w49a[1] is the ninth snapshot released for Java Edition 1.13, which added block and item tags.
Additions
[
edit
]
General
[
edit
]
Items and blocks can now be "tagged" with an ID.

Block tags can be used when testing for blocks in the world.
Items tags can be used when testing for items in inventories.

Tags are created using data packs in data/(namespace)/tags/blocks or data/(namespace)/tags/items.

For example: data/(namespace)/tags/blocks/foo.json.
This will create a block tag called (namespace):foo.
The json file contains a list of all blocks that should be "tagged".

There are two default tags for both the item form and the block form: minecraft:wool for all wool blocks and minecraft:planks for all wood plank blocks.
Changes
[
edit
]
General
[
edit
]
Crafting
Recipes can now refer to a tag instead of an item.
From released versions before 1.13
MC-36191 – Missing stat.mineBlock for various blocks (mob spawners, cauldrons, beds, etc.).
MC-98823 – Tipped arrows do not have a stat.craftItem statistic.
MC-99321 – Hoppers cannot pull items from double chests if second chest is blocked.
From the 1.13 development versions
From the previous development version
Video made by slicedlime:
References
[
edit
]