As part of the Unified Community Platform project, your wiki will be migrated to the new platform in the next few weeks. Read more here.
Java Edition 16w32b
Minecraft 16w32b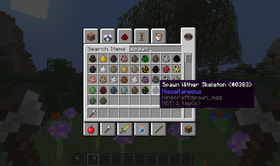 16w32b is the second snapshot for Java Edition 1.11, and was released to fix some bugs and crashes from 16w32a.[1]
Changes
[
edit
]
All rail types' hitbox heights are decreased from a full block to a half block.
Green-robed villagers
Re-added this entity as Profession:5; its name is shown in the trading GUI as "Nitwit".
Spawns naturally in villages.
When spawned naturally in a village, or from an egg, it has no trades.
Green-robed zombie villagers
Re-added this entity as Profession:5.
Spawns naturally anywhere zombie villagers spawn.
Command format
[
edit
]
/title can now display text in the action bar position.
From released versions before 1.11
From the previous development version
Video made by slicedlime:
16w32b was previously removed from the launcher for some time, but was added back in September 2018.
References
[
edit
]