As part of the Unified Community Platform project, your wiki will be migrated to the new platform in the next few weeks. Read more here.
Java Edition 12w40b
Minecraft 12w40b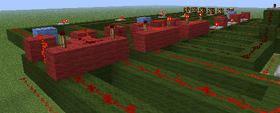 Edition
Type

Snapshot

Release date

October 5, 2012

Snapshot for
Download
Protocol version

45
12w40b is the eleventh snapshot for Java Edition 1.4.2,[1] released to fix some of the bugs and crashes in 12w34a and add a new commands feature.
Additions
[
edit
]
Command format
[
edit
]
Added tilde notation (~) to allow relative coordinates specification in commands.
3 bugs fixed
Fixed a bug causing block breaking to carry over to the next block you start to break.
Fixed beacon rendering.
Fixed a crash related to maps in strongholds.
References
[
edit
]